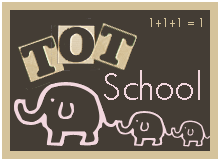 I'm happy to have Tot School to make me be mindful about purposefully doing things with my 2 year old. A couple of weeks ago we made tin can phones. Willa got them out to talk to her Paw Paw. I enjoyed watching her use them. She's learned that you have to pull the string taut to get the sound to transmit. This easy to do quick project does it's job in laying the foundation for future lessons in sound waves. Additionally, it's fun.
I shared this picture in our preschool corner post, but it's worth repeating. Here's Willa making a pie out of her
magna-tiles
.
Dress up is a favorite activity in our house. Willa worked through some problem solving this week. She was having difficulty putting her heels on while wearing the snow white dress. It was quite a process that I am at a loss to explain, but she did end up putting the shoes against her dresser so that they would not slip around as she put them on her feet. It's amazing the patience that she has. I don't have it. Ada doesn't haven't, and I think I can safely say that Micah isn't going to be well known for it either. Willa purposefully and diligently worked on the problem until she found a solution. She was pleased as pie when it all came together.